The Art of Temptation
Devonshire House
(Inspiration for Lincolnshire House in Berkeley Square)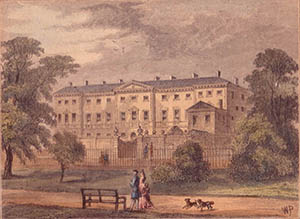 Devonshire House was designed by William Kent and served as the London residence of the Dukes of Devonshire for almost two hundred years. The crystal staircase was famous (although it was really made of glass), and a lady once said of the house, I never saw anything so magnificent as the profusion of gilding and chandeliers, one of which was solid silver.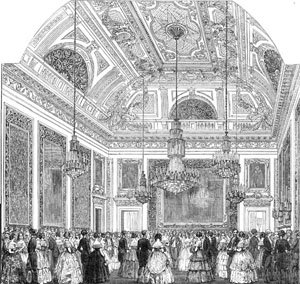 A ball at Devonshire House.
Because I wanted Lord Lincolnshire to live in Berkeley Square, I turned this house around—in reality, the house fronted on Piccadilly Street and its gardens backed up to the square. Devonshire House is no longer standing, but before it was demolished in the 1920s, many of the interior furnishings were moved to Chatsworth, the duke's residence in the countryside. You can still see some of them there.
Kenwood House
(Inspiration for Sean's house in Hampstead)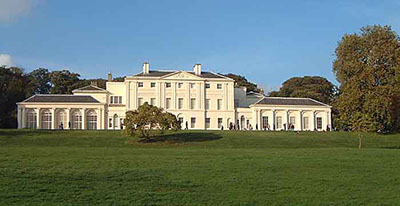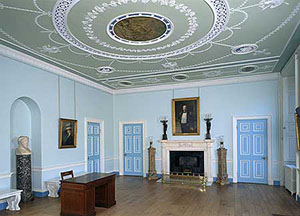 Entrance hall with blue walls (but unlike in the book, all the rooms aren't blue!)
Sean's house was inspired by Kenwood House in Hampstead. Set in an idyllic landscape beside Hampstead Heath, the house was expanded by Robert Adam between 1764 and 1779. Although Sean didn't have any paintings, the real house is a veritable gallery. Edward Cecil Guinness, brewing magnate and first Earl of Iveagh, bought Kenwood House in 1925, and when he died in 1927, he bequeathed the estate and part of his art collection to Britain. The house is open daily all year round, and if you visit you will see important paintings by many great artists including Rembrandt, Vermeer, Constable, Turner, Reynolds, and Gainsborough. I like to imagine that Corinna might have put together such a collection!

44 Berkeley Square, London
(Town house for the Chases)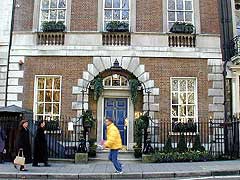 The Chases' town house at 44 Berkeley Square has been described as the finest terrace house of London. It was designed in 1742 by William Kent for Lady Isabella Finch. Unfortunately, you cannot visit, because the building is currently being used as a private club. But if you go to Berkeley Square, you can see it from the outside—look for the blue door.

Spencer House
(Inspiration for Stafford House)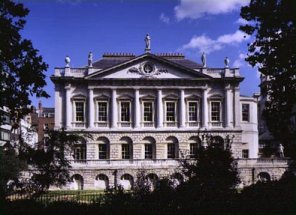 Stafford House, James's home in St. James's Place, is based on Spencer House, one of the great architectural landmarks of London. Built in the eighteenth century by John, 1st Earl Spencer (an ancestor of Diana, Princess of Wales), it was immediately recognized as a building of major importance. Should you ever find yourself in London, I highly recommend a visit. Its exquisite rooms have all been restored, and you will see many of the antiquities Amanda admired in Tempting Juliana. Spencer House is open to the public every Sunday except during January and August.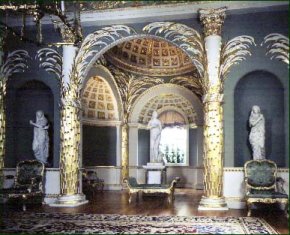 The Palm Room.
More pictures of Spencer House

Lindsey House, London
(Inspiration for the Chase town house)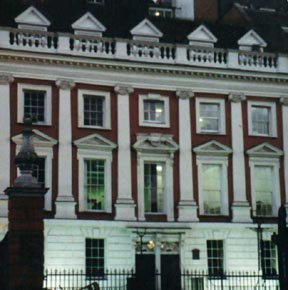 For their London town house, the Chases have borrowed Lindsey House bordering Lincoln's Inn Fields. Attributed to the esteemed architect Inigo Jones, it is the only original house left in the square. The house takes its name from Robert, 3rd Earl of Lindsey, who purchased the property in the 1660s from the family of Sir Theodore Mayerne, who had been doctor to James I and Charles I. There have been various distinguished occupants since, including James Whistler, who painted the famous portrait of his mother there.

Amberley Castle
(Inspiration for Greystone Castle—not related to Amberley House)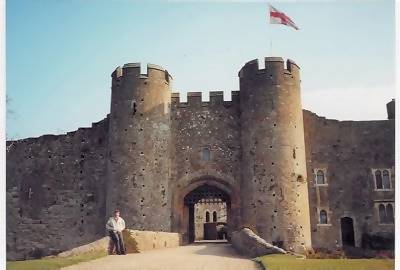 Portcullis Gate at entrance to Amberley Castle.
Greystone was inspired by Amberley Castle, also in West Sussex. Charles II visited the castle in 1651 and 1685. The then tenant, Sir John Brisco, commemorated the second visit by commissioning a mural of Charles and Queen Catharine, which can still be seen in the Queen's Room, now a gourmet restaurant. The castle has passed through many hands and is now run as a Country House Hotel. The walls exude the spirit of dreams and legends, and a stay there is the stuff memories are made of, well worth the splurge.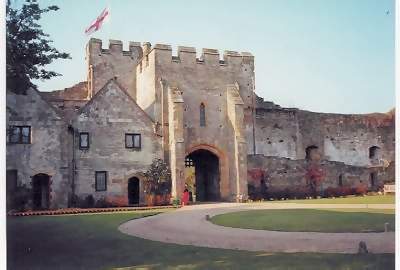 Lower Court, within the castle walls.
More pictures of Amberley Castle